Pepe Deluxé – General Deluxé
£2.00 – £2.50
'General Deluxé' is the second deliciously mind-blowing and bountiful single-come-madcap experimentalist brilliance-come-archeological fest taken from Pepe Deluxé's forthcoming album 'Phantom Cabinet Volume 1'.
Not ones to be outdone in the weird stakes, the duo (Finland-based James Spectrum and New York-dwelling Paul Malmström) have surpassed even themselves on this one. Whilst the album's first single 'Big Fat Woodpecker' featured the Alexander Graham Bell recorded on his 1874 Human Ear Phonoautograph (Google it – it's terrifying), 'General Deluxe' boasts… (wait for it) …God's own trumpet!
As James Spectrum expands "We wanted to have the Last Trumpet on the album, the one that signals Armageddon in the Book of Revelations. So, how do we record that? The ANS synthesiser, created in Soviet Russia in 1938, transforms images into sounds, named after the Russian composer and occultist Alexander Scriabin."
The duo fed William Blake's famous drawing of the Last Trumpet into it, so let's credit Blake on the record too, not to mention the real life birth wail of Spectrum's daughter, and the huge lead vocals of jazz artist Charlotta Kerbs, backed by classical bass singer Tuukka Haapaniemi, blues belter Chris Cote, and actor Sara Welling. Plus a stadium full of football fans (just because).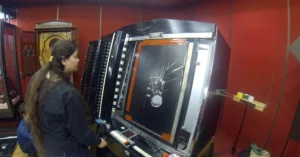 The ANS synthesizer at Glinka Music Museum, Moscow seen here being played by curator Olesya Rostovskaya
'General Deluxé' leads from the front, and through over five decades of music in one song. It explores lost worlds, seeks out exotic sounds and musical treasures, and goes boldly where no ears have gone before.
For the new album Phantom Cabinet Vol. 1 the duo spent a decade trawling every corner of the Earth to seek out the oldest, strangest instruments ever created to play on the new record, coming 22 October. New single 'General Deluxé' precedes the album and is released as a digital single 1st October, both via Catskills Records.
Available to stream and download from all good (and evil) services.