Nylon Rhythm Machine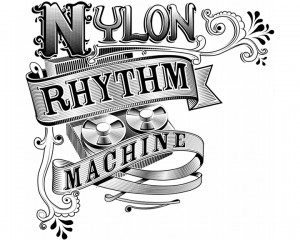 Nylon Rhythm Machine is the recording name of guitar maestro and one-man-band Tim Gomersall (AKA Flexmaster Nylon). As the son of one of the members of 60's one-hit-wonders The Playboys, music has been in Tim's veins for a long time. He started making music seriously about 3 years ago but has been dropping wax in a variety of guises and DJing for the last 10 years.
Flex's other claim to fame is that he was once attacked by a Bengalese White tiger while on a backpacking holiday and now has a tooth lodged in the back of his skull! The incident blessed him with special abilities such as the power to see in the dark, a top sprint speed of over 25mph and predilection for being stroked…
The album "Fanta Vista" on Catskills features collaborations with Wildchild (of Lootpack) and JFB (One Eye) and Naomi Bedford (from "In A  Funny Way" with Mex) where Nylon continues his musical adventures that he describes as "what happens when Electronica meets fantasy art!" – how can you resist?